15 Dec 2011
How to Enable USB Mass Storage Mode in Nokia Lumia 800
Nokia Lumia 800 the latest flagship smartphone offered by Nokia is running on Microsoft Windows 7.5 Mango operating system and made by matte polycarbonate unibody chasis. Design wise the phone is extremely good but feature wise it lacks some of the basic features which we have used to in old Nokia Symbian or Other android devices i.e. Bluetooth file transfer, NFC (which exist in all new Nokia Symbian devices), external memory slot, USB Mass Storage Mode etc. Nokia is not added these features in Nokia Lumia Smartphone due to limitations of Windows 7.5 Mango OS.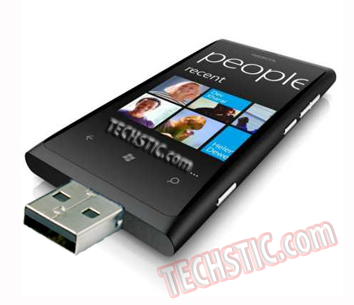 USB Mass Storage Mode is very useful feature in smartphones, with help of USB Mass Storage Mode , you can easily use your smartphone as an storage device to store your data directly without use of any third party software, i.e. Zune Software as in case of Nokia Lumia 800. If you want to enable USB Mass Storage Mode in your Lumia 800 then you can easily enable it with the help of a Hack, We are here going to describe step by step method to Enable USB Mass Storage Mode in Nokia Lumia 800 with the help of screenshots.

Disclaimer : Windows Phone 7/7.5 OS was designed not to work in USB Mass Storage Mode due to some issues found when used Mass Storage Mode. Some of Known issues are (i) Media not showing on the phone properly, (ii) Reduced responsiveness and (iii) may be some unknown issues can also occur. Nokia and Microsoft are well aware of Mass Storage mode and if they felt it were viable for this OS then they would have enabled it. So after knowing these things if you are applying the hack to enable USB Mass Storage Mode and any issues occured, in that case we(techstic.com) are not responsible and full responsibility will be of the person who is applying the hack to enable USB Mass Storage Mode.
How to Enable USB Mass Storage Mode in Nokia Lumia 800
Before starting we want to tell you that according to original founder of this hack Nokiabuff.com this will work for Music & Video but any music files transferred are grouped under "Unkown Album". Techstic.com also confirm one thing that we have not actually tried this method to enable USB Mass Storage Mode due to non-availability of Nokia Lumia 800 here. If you still want to apply this method read below:
In the Left Pane click on HKEY_LOCAL_MACHINE
Then find SYSTEM folder in the tree and click on it
Then under SYSTEM folder open folder tree CurrentControlSet  >> Enum >> USB.
Now Select USB folder
Then Search for "ZuneDriver" by pressing Ctrl+F keys or by clicking Find in Edit Menu at the Main Menu Bar (USB folder should be Selected before searching)
It will find "ZuneDriver" under VID_045E&PID_04EC&MI_00  folder tree
Now click on Device Parameters folder tree, then right click on Device Parameters and click Export in case if something goes wrong, it will restore the registry to old state
Now click on Device Parameters, and it will shows all registry values under it in right pane.
Now in the right pane double-click the registry value called ShowInShell and change its value from 0 to 1
Then double-click the registry value called PortableDeviceNameSpaceExcludeFromShell and change its value from 1 to 0
Then double-click the registry value called EnableLegacySupport from 0 to 1
After changing above three values, close the registry editor and it will save those values.
Now Remove the Nokia Lumia 800 USB connection and re-insert it again.
You will see two portable devices displayed in My Computer with a Storage capacity of  13.3 GB.
Now you are able to transfer your Music, Images and Videos to the Lumia without using Zune Software.
Dont forget to eject device before removing the USB cable otherwise it may create issues.
As we already mentioned that the music added via this hack will show as unknown album in Music app. Although in LovemyNokia.com test the picture and video transfers to the device worked without any problem.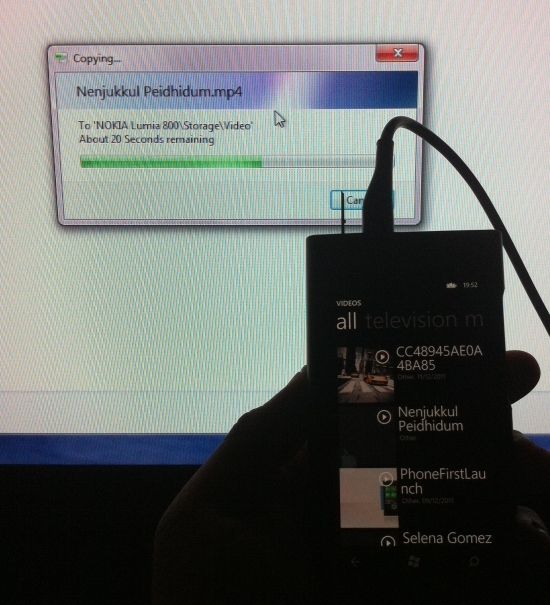 But you should copy the compatible formats to play in Nokia Lumia 800. This hack is much faster then Zune as you can see the files pop up in Lumia gallery or video player as you begin to transfer in picture.
We have to conduct test whether this hack works without Zune, as source images shows  that after removing the Zune, Lumia 800 still managed to get drivers from Internet and LoveMyNokia blog guys  had to reapply this registry hack to enable it to show in My Computer. And the file transfers worked fine too.
Image Credit and Article Source : My Nokia Blog / Love My Nokia
Comments