10 Aug 2012
Is Your Car Safe Without Safety Devices?
Love your car but worried about its safety. Ensure its security with some modern improvised devices introduced by companies. Your lavish expensive car is in the open under the eye of on lookers. Sleepless nights because worried about your car safety. Install and upgraded your car with safety devices to ensure it's security.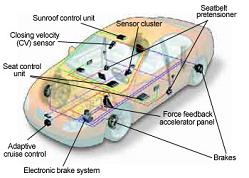 Safety And Security Device For Your Car
CENTRAL LOCKING SYSTEM: Scared that your beloved car is under constant supervision. Then upgrade it with the central locking system. The anti theft device protects your car from theft and unknown instances. Locking and unlocking your car is easy with a press of a button. Automated and manual central locking systems are available. Automated locks and unlocks automatically and manual has to done by the user. The safety device ensure maximum protection for your car.
POWER WINDOW: Empower your window with electric door locks that are installed at the front door. The driver can lock or unlock all the doors at a click of a button. It is in the hands of the driver to lock all the doors at his will. The  most easiest and convenient method of central locking all the doors at the press of a button. The device signals unlocking with either a light or a horn signal. You can opt between the two variants.
REVERSE PARKING SYSTEM: Worried about reversing your car and experiencing unkown collision. Now you can install the reverse parking system in your car which alerts you of any object in your way. Unknown damage can be prevented with a reverse alert. Damaging or denting your car from a collision with an object can be  prevented. The rear view mirror at times might fail to give you a glimpse of an object. This reverse parking system can come handy and relieve you of costly repair bills.
REVERSE PARKING CAMERA WITH LCD: Park your vehicle without worrying about objects behind you with the reverse parking camera. The camera is placed at the rear of the vehicle with an LCD screen. When you are reversing your car the camera gets activated. It  gives a coloured rear view image of your vehicle.
GEAR LOCK: A gear locking system operates manually to lock the gear shift lever. The gear's locking mechanism has a security cylinder tumbler, pin and driver. The lock incorporates tamper proof material and can lock even with out the key. The gear lock is designed for todays customers and is suitable for any car model.
CHILDRENS CAR SEAT: The car seat ensures safety to your little one minimizing any injury. An unknown incident will be less impactful as your child will be secure in the car seat. The chances of injury during an accident is less because of the car seat. So, choose an appropriate car seat for your kid, as it must properly fit your child.
Ensure your safety with the devices introduced by companies.  Enjoy a stress free drive and a safe drive with the latest upgradations.
Author Bio-Anna Lee is marketing head of the Car Studio , pioneer in providing Car GPS Device
Comments