24 Nov 2012
Sports Touring in the Fascinating New 'Merc B Class'
The B Class was originally introduced as a small family car by the German auto giant in 2005. It was more of a bigger version of the A class, retaining the same engine and suspension system. It is basically a hatch back, multipurpose vehicle. The new Mercedes Benz B Class 'Compact Sports Tourer', as the company describes it, is more nimble and efficient than before but just as spacious and comfortable. You could say that this beauty is a winner all round. This car, which was unveiled at the 2011 International Motor Show in Frankfurt, is expected to be in dealers' showrooms sometime this month.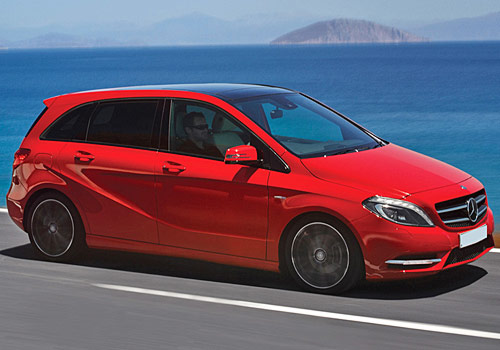 It is still doubtful whether the car will be imported to the US from Europe. The current strong presence the Euro has in the international market seems to be a major impediment to this. It is hoped, however that a newer version of the B Class Compact Sports Tourer will eventually make its way to the States in 2014.
This front wheel drive car is equipped with a new four cylinder gas engine with direct charging and turbo charging capability, a brand new diesel engine, new gearbox and support systems.
Space has been saved by arranging the engine and transmission partly in front of the passenger cell, and the rest beneath it. So though the cart looks small from the outside, the inside is actually as roomy as a normal sedan or wagon. There is adequate, leg, head and shoulder room, according to company sources. The total body length is 4270 mm with a long wheel base of 2778 mm. this means that the seat to seat distance is almost the same as in the S class.
We can see here a blend of different vehicle concepts in the car, making it highly versatile.
It actually ushers in a new age in technology for compact Mercs. According to Mercedes Benz R&D bigwigs, this car has created history by becoming the first to incorporate so many sweeping changes. They also feel that future consumers of the b Class Merc will have a great advantage in terms of highly reduced fuel consumption and carbon dioxide emissions, increased roominess, and higher security. What is more, they say, is that this vehicle is real fun to drive.
It can be converted into a van by removing all the passenger seats; this will increase its load capacity to over 2200 liters, up from 544. This is nearly the same load capacity of a large wagon. The max load length is 2.95.
The Merc B Class Compact Sports Tourer also has the following interesting features:
Load compartment floor whose height you can adjust
Rear seat can be divided and folded asymmetrically
Option to remove front seat (passenger)
Multi function stereo wheel which enables you to control the radio phone and other systems with your thumbs
Command APS, the navigation system which gives you instructions for the route
Tunnel mode that closes windows and the sliding roof when you go through a tunnel.
Cornering lights that automatically dip at junctions and tight corners
This is a guest post by Christy Haywood of offers.telcoservicesgroup.net, a site that offers savings and current information on click here