12 Jun 2013
10 Top Windows 8 Apps (Metro Apps)
Windows 8 have recently gained its popularity with its cool user interface and features. People want to know more and more about the operating system in order to explore it completely. The main attraction in Windows 8 is its wide range of applications most of which is available for free. Here I will discuss about 10 Top Windows 8 Apps (Metro Apps).
10 Top Windows 8 Apps (Metro Apps)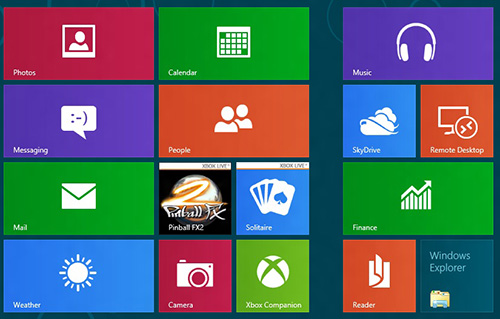 Skype is first among 10 Top Windows 8 Apps (Metro Apps), The metro version Skype available in windows 8 is totally different. It has improved graphics and easier interface for users. Using Skype you can also merge your MS account and this merges your contacts available. Doing video chat or chatting with friends is all the more cool using the metro version of Skype.
This is a cool metro based application of much use. With this one can convert every type of video as well as audio in different formats. This can be used to covert videos into better quality or in such format that your phone supports. The audio quality can also be enhanced using this app.
This app is known to quiet a lot of people and is very popular also. This app provides a fixed place around 2 GB to the win 8 user. Here you can store certain files and folders, and also share them through Share charm to your known ones. This app really come handful when it comes to manipulation of files.
This is quiet an interesting app. This app acts exactly like a mini diary and performs all its function along with something more. One can write down events of his or her daily life or even important events and attach photos also. This app stores everything.
Though known to all but this is an important tile present in win 8. Wikipedia as known to all is the owner of a huge database consisting of info related to nearly every topic. For any kind of info you can refer to this tile for help.
This is an important app generally used for photo editing. The app in general is made for touch interface user and provides all the facilities needed for editing photos.
The TeamViewer app like the rest remote control apps helps the users a lot. One can use others computer via secured connection using this app and can do anything they like. This app is really helpful when it comes to many connections in an online meeting or while presenting a presentation. This is also one of the useful apps among Top Windows 8 Apps.
The application is based for note taking for metro user in windows 8. Via this app you can save photos, notes and also recordings of audio and video.
RainbowDrive is a metro tile app which helps you get connected to the providers of your cloud storage. The cloud storages are mainly DropBox, SkyDrive and Google Drive. This app lets you to use them from one place instead of viewing them individually.
The application let you to do multi tasking on the same screen. The screen of your pc gets divided and different activities like web browser, calc., Facebook runs at different places. This let s you to do a whole lot of work at the same time.
In all these 10 Top Windows 8 Apps (Metro Apps) are the apps which are basically needed by most of the users across the world and is helpful also. There are still many metro based apps which are equally good and more are yet to come. Hope these 10 Top Windows 8 Apps (Metro Apps) will be helpful to you.