Google unveiled Samsung and Acer chromebooks at Google I/O. We already told about Samsung Series 5 ChromeBook Features and Specification in our earlier post, now we will discuss about latest Acer ChromeBook Features and Specification.  As the name suggests this ChromeBook will run on latest Google Chrome OS.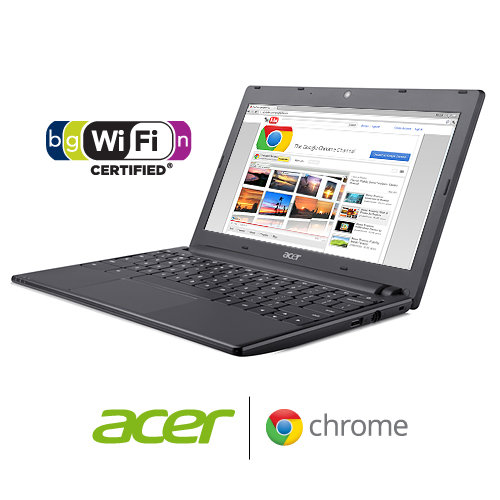 Acer ChromeBook sports 11.6 inch HD Widescreen CineCrystalTM LED-backlit LCD with 1366×768 pixel resolution.The Chromebook from Acer is powered by Intel AtomTM Dual-Core Processor. According to unconfirmed sources Acer ChromeBook will equipped with 2 GB of RAM and 16GB SSD drive. This chromebook will have Wi-Fi and optional World-mode 3G connectivity. Acer ChromeBook will have HD Webcam with noise cancelling microphone, High-Definition Audio Support, 2 USB 2.0 ports, 4-in-1 memory card slot, HDMI port, Fullsize Chrome keyboard and Oversize fully-clickable trackpad as additional features.
Acer ChromeBook will be launched in the U.S. on June 15, 2011 from BestBuy.com and Amazon starting at a price of $349 with optional world-mode 3G. Acer ChromeBook is cheaper than the Samsung Series 5 Chromebook.
Acer ChromeBook Features and Specification

11.6 inch HD Widescreen CineCrystalTM LED-backlit LCD
1366×768 pixel  resolution with16:9 screen
Weight : 1.34 kg.
6 hours of continuous battery backup
Intel AtomTM Dual-Core Processor
8 seconds boot time (approx.)
2GB RAM
16GB SSD drive
Stereo speakers
802.11 b/g/n Wi-Fi
Built in dual-band Wi-Fi and World-mode 3G (optional)
HD Webcam with noise cancelling microphone
High-Definition Audio Support
2 USB 2.0 ports
4-in-1 memory card slot
HDMI port
Fullsize Chrome keyboard
Oversize fully-clickable trackpad