Famous Auto Major Honda India is launched its most awaited car Honda Brio on 27 September 2011, although Honda's earlier launched small car Honda Jazz was failed to attract customers. According to sources Honda Brio Price will be around Rs 3.95 to 5.1 lakh. According to sources this car will be launched in four variants – Brio E, Brio S, Brio S Option and Brio V.
Honda Brio price of all these variants are as below :-
[table id=9 /]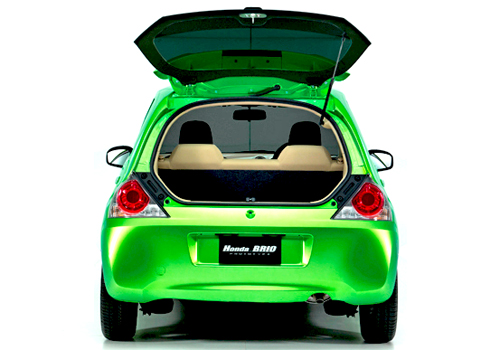 The Brio Car will compete with  Ritz, Swift, Figo, Toyota Etios Liva, Chevrolet Beat and Volkswagen Polo. Brio is a compact hatchback segment car with attractive looks and design. The Brio Car will come affixed with 1.2 litre i-VTEC engine. The Brio Car is a 4 door mid size hatchback with 5 passengers seating capacity. This car is easy to handle and comfortable.
Honda Brio Features will expected to include projector beam headlamps, EPS Stability control and pushbutton keyless start, traction control system (TCS) , i-VSP Intelligent vehicle stability program (AWD models only) , ABS (Anti-lock Braking System) with EBD and Brake assist function. When we get more information on Honda Brio Specifications and Features and Honda Brio Price, We will update this page.
[table id=8 /]


Honda Brio Details
Honda Brio E MT: It is the base variant of Honda Brio which is powered by SOHC i-VTEC petrol engine. This variant has Halogen Head lights, body colored bumpers, Front Chrome grille, silver steel wheels and many more interior, exterior and safety features. Honda Brio Price for this model is around Rs. 3,95,000
Honda Brio S MT: This is the upgraded version of Honda Brio E model with the same engine. It also has body colored ORVMs and door handles apart from audio system and keyless entry, rear power windows and also comes with all Honda Brio Features of E MT. Honda Brio Price for this model is around Rs. 4,35,000
Honda Brio S Option MT: This variant comes with front and rear mudguards, EBD, ABS, tilt steering, driver and front passenger airbags, electrically adjustable ORVMs and also comes with all Honda Brio Features of S MT. Honda Brio Price for this model is around Rs. 4,90,000
Honda Brio V MT: It is the top end model of Honda Brio and comes with alloy wheels, front fog lamps, EBD, ABS, two airbags, silver inside door handles, double horn and also comes with all Honda Brio Features of S Option MT.Honda Brio Price for this model is around Rs. 5,10,000
Honda Brio Features
High fuel efficiency
Compact exteriors
Spacious Interiors
Modern Styling
Easy handling
Classy Interiors
Spacious Boot
Honda Brio Features
Disclaimer:

All information on these car specification pages has been compiled from their respective official websites or through public domain sites and leading newspapers. Although, We have taken reasonable efforts to provide you with accurate information, but techstic.com assumes no responsibility for the accuracy (or inaccuracy) of the Information or pricing and would advise you to verify it from the official product provider. If you are an car manufacturer or would like to update or change information, or would like to advertise on our site please contact us